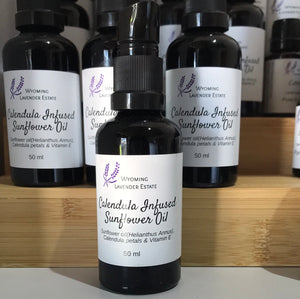 Calendula Infused Sunflower Oil 50ml
Regular price $12.95 Sale
Sunflower Oil (Helianthus annus), Calendula petals & Vitamin E
Infused Calendula Oil can be used directly on the skin as is or in preparations for creams, ointments, tinctures, cosmetics, shampoo and baby wipes. It has soothing and skin softening properties.
Infusion
Infusion of plant matter (flowers) into a sunflower oil base
Description
Calendula infused oil is a soothing and healing infusion, rich in colour and active benefits. 
Cosmetic benefits
Calendula can be used to enrich cosmetic formulations with healing benefits. It is used to soothe irritations & is calming on your complexion, this makes it popular in preparations for sensitive and dry skin types, blemish prone skin may also find relief with Calendula. 
In a Formulation
It can be used directly on the skin or incorporated as an active ingredient in creams, massage oils, serums, balms, scrub, soaps and more. Rich in colour, using Calendula oil can change the colour of your end product. 
% Use in formulation
Can be used at 100% or part of a formulation.